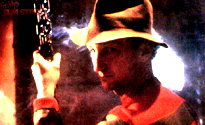 The next day, Freddy slipped into his comfortable red and green sweater, donned his crumpled fedora, climbed into the front seat of his battered Chevy van, and drove into town. Lovingly, he clicked the blades that gleamed so beautifully on his right hand and waited patiently in the alley adjacent to Springwood Elementary School. He felt his muscles tense with excitement as the bell rang, announcing the end of another school day. For a fleeting
moment, Freddy wondered what it would have been like to have gone to school with other children, to have had friends and to have played the innocent games of childhood. For that one brief moment, Freddy wondered if it might not be terribly wrong to interfere with the normal development of a child, to cut off at its very beginnings a human life of almost infinite possibilities and potentialities.
Then he saw the children, laughing and skipping as they rushed into their parents' loving arms, and Freddy knew what he had to do.

There was a little girl standing at the curb not far from the alley. Perhaps her mother had had difficulty starting the car or maybe a long line at the supermarket had set her schedule back a few minutes. No matter. The little girl was very much alone, and Freddy felt a stirring deep in his wicked soul. Squinting into the sunlight, he read the name 'Amy' written in bright pink letters on the girl's lunchbox.

'Amy?' he whispered, but the girl didn't seem to hear him. 'Amy,' he repeated, a little louder this time. The girl looked at him with her large blue eyes.

'Come here,' he said, beckoning to the girl with his left hand. She looked away for a moment, glancing up the street as if expecting her mother to arrive at any moment. Then she looked back at Freddy, and he knew in that instant that he had won.

'Come here,' he repeated. The girl hesitated for only a moment and then stepped into the alley.

'Who are you?' she asked in a small, sweet voice that set Freddy's teeth on edge.

'Uncle Freddy,' he replied, liking the sound of it. 'Your mother said I should bring you home.'

The girl shook her head doubtfully. 'I don't have an Uncle Freddy,' she said.

'You do now,' said Freddy, raising his right hand high into the air. Then he brought it down, his temples pound- ing as his left hand covered the child's mouth and his right tore four deadly gashes in her soft belly. Freddy looked at the bloodied glove for a moment and felt joy deep in his soul. How easily the little one had died! He lifted the girl's bloody body and carried it quickly to his parked van, feeling more alive than he had ever felt before. He stashed the body under some blankets in the back of the van and drove to the power plant. There he unloaded the body and hid it in a large unused storage locker in the back of the boiler room. Then he sat back and breathed deeply of the hot, stifling boiler room air that he had learned to love.

At last, Freddy's life had meaning.

After that, Freddy found it easy to fulfill his self-proclaimed destiny. His methods of abduction varied, but the result was always the same. He loved to see the newspaper accounts of the kidnapping, but it troubled him that no one knew for certain whether the missing children were dead. He began leaving puddles of blood at the murder sites so that everyone would know that these were not mere kidnappings. It was important to him that the smug parents of Springwood know that their children were being carefully and methodically butchered.